1000 Gifts: When Plans Don't Work Out
This week started out great, but pretty quickly all my to-do lists and plans went down the hill. Thursday and Friday I was sick and got stuck all day watching
The Waltons
and
I Didn't Know I Was Pregnant (
don't ask…there's definitely a limited amount of shows on during the day). Thankfully, my sweet husband is an
excellent
caretaker. I nearly went mad, though, and even had to miss my sister-in-law's birthday dinner because I was still running a fever. It's during those times that I wonder if God's trying to tell me something. Maybe that I need to slow down and rest?
41. My grandparents celebrating an inspirational 58 years of marriage!
42. New opportunities and open doors.
43. Looking at baby stuff for my new nieces!
44. A husband who always takes good care of me when I'm sick.
45. A good book to read that came right when I needed it on Thursday.
46. Soft rain to water the ground.
47. A good laugh watching my dog and kitten playing together.
48. Working on the house together and finally getting to the countertops!
49. Letting go of plans and to-do lists when they don't work out.
50. Looking forward to a Monday off to spend together and go on a date. :)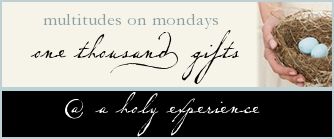 Labels: marriage, one thousand gifts