One Thousand Gifts: Lingering Summer
This past week has been long but sweet, as we've been experiencing the last tastes of summer. The temperatures go up-and-down, school buses are passing, and each day is even more unpredictable then it has been. Yet, each day holds something new and exciting. I still get to savor the warm sun on my skin, some late-blooming flowers, and a still growing garden. Summer is nearing its end, but it's not gone quite yet. :)
11. An early morning walk in peace and solitude.
12. An unexpected writing opportunity for a little extra cash.
13. The last few softball games on warm, muggy evenings.
14. Seeing a friend walk around at said games after breaking his back a mere few weeks ago.
15. Taking Friday off the work on the house and yard together.
16. Having friends over for one last summer grill time and a birthday celebration for my man.
17. Celebrating two years of life for a little friend.
18. Sunday afternoon naps snuggled on the couch.
19. Making a sweet baby smile.
20. Getting to be a part of a church whose senior pastor (and the others as well!) is wholeheartedly following the Lord.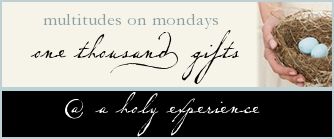 Labels: friends, marriage, one thousand gifts, summer