One Thousand Gifts: Coming Home
Friday afternoon Andy and I finally pulled in to our driveway after being gone for a week and a half. For a week, we had been in High Point, NC, at the furniture market. The days were long and tiring. My husband and I got to be together all day, but somehow it felt like we didn't actually have any
time
together. We were too distracted with being "professional" and "working".
It's good to be home.
111. A delicious lamb gyro. You just can't get that where we live.
112. Peace about God's plan and timing.
113. A bonfire with the college group.
114. Working like crazy on our house and seeing our dreams take shape.
115. Getting to actually
spend time
with my husband.
116. A Sunday afternoon nap after a long couple of weeks without a weekend.
117. The lowest energy bill we've ever seen.
118. Celebrating my beautiful Mama's birthday, even though I couldn't be there.
119. Sweet little pets
so excited to see us home
.
120. Getting to take a bath...after being stuck in a handicapped hotel room with only a shower.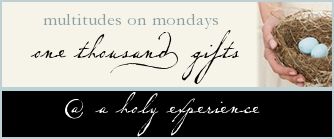 Labels: one thousand gifts